On 20 June 2018, Perdebytjie published this post – Die Ironie van Alles. It's in Afrikaans so I asked if I may translate her words, to share with all the English-speaking folk who visit my blog. It's not your normal upbeat view of all things great in South Africa… because life there is not that great for most of the population – black, white… or whatever race or creed you may be.
You may ask why I want to post this here… well, there are a few reasons. We live in Ireland… where, a week or so ago, an exhibition was opened by Michael J Higgins, the Irish President – 'From Prisoner to President' – celebrating the life of the great Nelson Mandela. I'm afraid the joy around any celebration of this kind leaves a very jaundiced impression on many.
Nelson Mandela's legacy has long been trashed by the very political party he was so proud of! Many will admit that the once might ANC are now a mere shadow of the force for good Madiba wanted it to be! But hey, who am I to question his legacy? After all, I left those shores – to protect the safety of my immediate family, so… by rights, do I have a right to state that Mandela's legacy is trashed? Yes, I have a right to question – we fear daily for the safety of our family and friends who have not been fortunate enough to find real freedom!
OK… enough said – here's my translation of Perdebytjie's words of woe…
***
Ek probeer om nooit negatief op my blog te wees nie. Hierdie wat ek vandag skryf, is al ou nuus en afgesaag vir meeste Suid-Afrikaners. Ons is al so gedesensiteer, dat ons heel gevoelloos daaroor raak. Ek voel egter die afgelope tyd soos 'n vuurspuwende berg wat wil uitbars en het besluit om hierdie te skryf, om talle van my oorsese blogvriende bewus te maak van wat hier aangaan.
I try to never be negative on my blog. What I'm writing today is old news and hackneyed for South Africans. We're so desensitised that we've become emotionless about the situation. However, lately I've been feeling like a volcano that's in need of eruption and have decided to share this with my foreign blog friends to raise awareness of just what's happening here.
Ek vra groot verskoning vir die negatiwiteit, maar ek wil iewers gal af gaan…
I apologise profusely for the negativity but I need to get rid of the bile… (AJ adds: the You referred to in the points below is directed at the normal Joe and Jolene Soap, the folk who keep voting the ANC into power… )
1. Jy is een van min mense wat 'n werk het, maar jy staak.
1 – You are one of the few in employment, yet you strike
2. Jy gooi asblikke om en bemors die strate, net om later dit self weer te moet opruim.
2 – You litter and trash the streets, upending dustbins, only to later have to clean the mess yourself
3. Jy brand al die skole in jou buurt af, omdat jy ontevrede is dat daar nie genoeg skole is nie.
3 – You torch the schools in your neighbourhood, because you're dissatisfied with the low number of schools
4. Jy slaan die dokters en diegene wat wil werk by die hospitaal, pap en gooi alles stukkend, omdat jy nie genoeg betaal word nie. Dit wat nou weer ten duurste vervang moet word, kon dalk vir 'n beter salaris gesorg het.
4 – You assault the doctors and other hospital staff and break equipment, because you're not paid enough, but… that which now has to be replaced at great cost might have been used for for that better salary.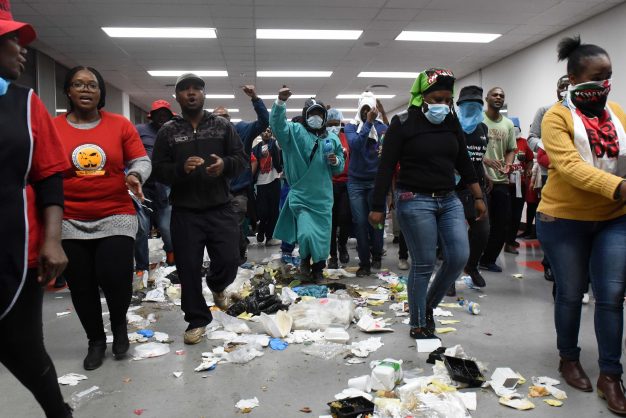 5. Jy brand treinwaens uit woede omdat die treine altyd laat is en daar ook nie genoeg treine verby kom nie.
5 – You burn train coaches because the trains are always late and there are too few scheduled.
6. Jy saboteer die elektrisiteitstoevoer, want jy eis 'n hoër salaris by 'n bankrot maatskappy. Die sabotasie gaan miljoene kos om reg te maak en eintlik is daar duisende werkers wat reeds oorbodig is en eintlik nie eers hier nodig is nie.
6 – You sabotage the electrical supply because you're demanding a higher wage from the bankrupt provider. The repairs will cost millions but that's only part of the problem, the service provider is also coughing up for thousands of superfluous workers who are no longer required.
7. Jy breek in by hardwerkende mense se winkels en spazashops en steel al hul goedere, terwyl jyself te lui is om iets op jou eie te probeer.
7 – You burgle the shops and spazas of honest, hardworking people but you're too lazy to try something on your own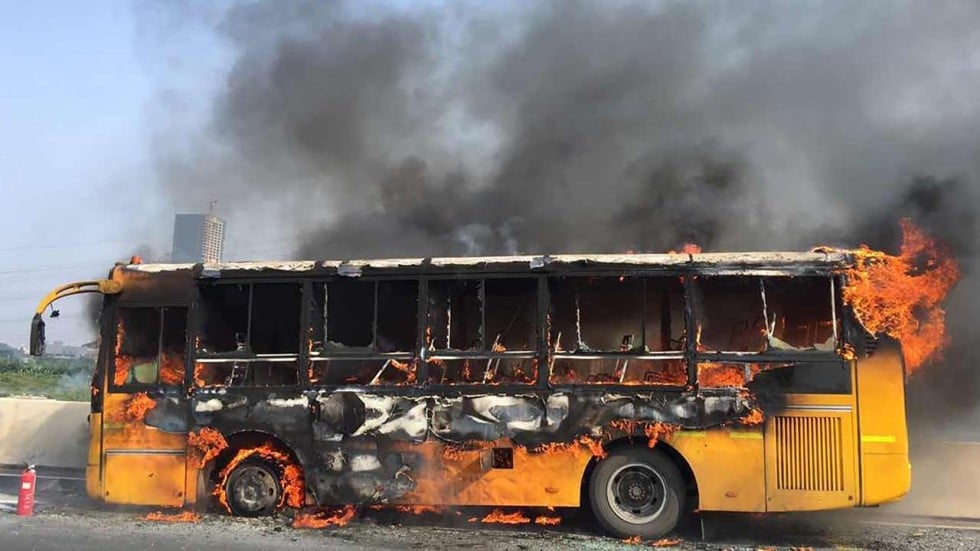 8. Jy gooi petrolbomme in busse en brand mense dood, omdat jy ontevrede is dat hulle 'n roete gebruik, wat "joune" is.
8 – You toss petrol-bombs into busses and incinerate people, because you're unhappy about these busses using "your" routes
9. Jy het straatgevegte met taxis, wat ook op jou roetes ry. Daar is genoeg passasiers  vir almal, maar jy gun niemand anders 'n kans nie. Jy gee nie eers om as iemand doodbrand in sy voertuig nie.
9 – You get involved in street fights with taxi's that also use "your" routes. There are enough passengers to satisfy every operator's needs but you refuse to grant another an opportunity. You don't care if someone burns to death in their vehicle.
10. Jy vermoor plaasboere op die gruwelikste wyses denkbaar. Soms gaan dit gepaard met afskuwelike martelmetodes soos om die slagoffers met strykysters te brand. So verloor talle onskuldige mense hul werk en voedselsekerheid kom in gedrang.
10 – You murder farmers, in the most barbarous ways imaginable. At times the horrible deeds go hand in hand with gruesome torturing, like burning victims with laundry irons. Often innocent, dependant farm labourers lose their food security by these deeds.
11. Jy eis gratis universiteitsopleiding, maar jy brand die lesinglokale en administrasiegeboue af.
11 – You demand free tertiary education but you burn lecture halls and admin building to the ground
12. Jy skiet helder oordag in spitsverkeer, met militêre presisie twee geldwaens uitmekaar en hou jou eie mini-oorlog met gesteelde AK47 gewere, waarna jy rustig wegjaag met 'n gesteelde voertuig en sakke vol geld. Dit gebeur elke dag en jy sê dis omdat dit 'n maklike manier van geldmaak is.
12 – You shoot cash-in-transit vans to shreds with military precision… during broad daylight and in peak traffic. You create your own mini-war with stolen AK47's, then drive sedately away in your stolen getaway vehicles with your bags of loot. This happens often and you claim this is because it's an easy way of making money.
13. Jy maak die waterpype se kleppe oop, dat die kosbare water in hierdie droogtegeteisterde land, kilometers hoog die lug in spuit en mense vir weke lank sonder water sit, want jy wil meer geld hê. Intussen is jou krane ook droog en kos dit 'n fortuin om jou skade agter jou gruwelike dade reg te maak!
13 – You open water supply line valves, causing the precious water in this drought plagued country, to geyser uncontrolled into the air, resulting in many being without water for weeks – all because you're demanding more money. However, your taps are also dry and it costs a fortune to rectify the damage you have caused!
Hier gaan ek stop, want ek kan nog bladsye vol skryf. Tenminste voel ek bietjie beter noudat dit uit is.
Here I'll stop even though I can fill pages. At least I feel a tad better now that I've vented.
***
What more do I need to say? The photos used for today's post have been borrowed from the internet, credits included. I won't include any of the gruesome murder images… You only have to Google "farm murders" to see for yourself!
Before I go… here's one last comment on the Mandela's legacy… it is a legacy of death, corruption, torture, poverty and sickness… not a legacy to be celebrated, rather a legacy to be challenged!
20 JUL 2018 – I had a number of formatting issues with copied text and photos… apologies if the post opens incorrectly for you… it's too important to bin this!